Professional and Efficient Quality Inspection Services to Support Your Business in China
$190.00 - $290.00
/ Units
|
1 Unit/Units price all inclusive
(Min. Order)
Overview
Quick Details
Place of Origin:

Jiangsu, China (Mainland)
Brand Name:

Sunchine Inspection
Model Number:

Sunchine third party Inspection Services
Professional Factory Audit:

assess the capability of a Factory to produce as per your requirement
Product Quality Inspection:

to make sure the production complies with your specifications
High Quality pledge:

a sound knowledge of European and US quality standards
Third Party Inspection Service:

independent and impartial inspection services
Well-trained inspector:

experienced & with a good technical knowledge of the inspected product
Inspectors trained:

to detect products containing non-standard or non-compliant components
Documented inspection report:

with detailed shots; you see what our QC team has seen in the factory
Video made during the inspection:

to show product's aspect, assembling and functionning
Easy online scheduling:

online order booking and management
Efficienty & rapidity:

a trained inspector on site anywhere in China within 48 hours
Supply Ability
Supply Ability:

80 Unit/Units per Day
Packaging & Delivery
Packaging Details

- Inspections performed according to the strictest international standards and clients checklist by fully qualified inspectors with national and international certification and minimum 5 years of quality control practice in the field they inspect; all familiar with domestic and overseas business cultures;
- Intervention within 48 hours maximum anywhere in China;
- Complete inspection report with many pictures, observations & comments sent the same day;
- Over 29000 inspections carried out in China in
Port

all ports in China
Factory Audit / Supplier Audit / Social Audit / Product Quality Inspection Services / Quality Control, Inspection and Testing Services in all China, Turkey, India, Pakistan, Bangladesh, Vietnam, Taiwan, Thailand, Indonesia, Malaysia and Philippines
Fast and Efficient Inspection Services by a reliable Inspection Company in China with 10 years of QC experience.
Based on your specific needs, specifications, and requirements, we offer a complete range of inspection services. American and European Standards applied.

Chinese/ European management team: Sunchine Inspection understands better European buyers' requirements in matter of quality standards.

Extensive Quality Control Experience, Full Time QC Inspection, high reliability, and guaranteed customer satisfaction: All our inspectors are well trained and experienced. Specializing by product category, our full-time inspectors have all an acute technical knowledge of the inspected product and various years of experience in quality control matter.

Factory Audits, Machine and Product Quality inspections performed according to the strictest international standards and client's checklist.

We quickly report any non-conformity and assist you in the course of the corrective actions.
We have the necessary expertise to help you improve the quality of your productions in China and in Asia.

Well-documented inspection report with many close-up shots, comments and observations sent within 24 hours maximum. You exactly know and see what our inspection team has seen in the factory. Some videos can be made during the inspection to show you well product's aspect, assembling, functioning and functionalities tests.
Sample audits and product inspection reports are available on request.


Quality is important simply because poor quality increases costs.
How can poor quality products be eliminated?
Inspection is a very important aspect in ensuring your product quality. By inspecting products at the source, during production, prior to shipment and before container sealing, the costs associated with import risks and product recalls are reduced significantly.
Many importers rely solely on pre-shipment inspections. It may then be too late to solve small problems or errors that can make the shipment worthless.
Carrying out two or more quality control inspections is recommended when you are working with a new factory in China or making a first time order.
We can offer inspection services packages customized to client's needs and suited to different budgets. The cost will be far less than trying to fix a mess later.

Based on your special needs and requirements, we can offer a full range of reliable third party inspection services in China, Turkey, India, Pakistan, Bangladesh, Vietnam, Indonesia, Malaysia, Thailand, Philippines, Sri-Lanka, South Korea and Taiwan

Production Monitoring (PM)
Constant oversight in your factory with daily reports on quality and production status.
Production monitoring allows to identify and solve problems in real-time and make sure that all your requirements and schedules as agreed initially upon with your Chinese manufacturer are met in terms of production timing and deadlines, material, quality, compliance with international standards and delivery time.



First article inspection (FAI)
Thorough inspection of the first article produced at the start of production run; the FAI ensures that the factory has totally understood all your specifications and requirements. First article inspection is crucial to the manufacturing process.


Initial Production Check (IPC)/Pre-Production Inspection(PPI)
Inspection of machinery, materials, components and accessories to be used for your order prior to production. The IPC gives you a clear vision of the production planning and process and helps to prevent possible deviations and flaws that could affect the quality of your goods.



During Production Check (DUPRO)/During Production Inspection (DPI)
Control and recommendations for production processes and capacity; this inspection is made when between 20 % to 60% of your production is completed. The inspector checks workmanship quality, raw materials, product appearance, weight & size measurements, components & accessories, functioning & functionality, labelling & logos, packaging, packing and other special requirements depending on the product specifications and the export market.
The unfinished products and the compliance with the initial planning of production are also verified.
During Production Inspection improves your control over production, permits timely correction of flaws and improvements in quality.
Pre-Shipment Inspection (PSI)/Final Random Inspection (FRI)
This inspection, the most important, guarantees the conformity of production to your specifications and international standards. The pre-shipment inspection takes place when 100% of the production is finished and at least 80% packed in cartons. The inspector checks on-site the completed products, the packaging and the packing by sampling according to the method AQL and your requirements and execute various tests on the product




Full Inspection
Comprehensive inspection of 100% of your production conducted according to your instructions and our inspectors 'experience. This service is advisable for products of high technology and products with high added value.




Container Loading Check (CLC) / Container Loading Inspection (CLI)
Guarantee the finished and packed goods meet your specifications (product type and quantity) and makes sure that the right goods and the good quantity are securely loaded for shipment into a container in good condition.




Factory Inspection / Factory Audit
Comprehensive assessment of the production facilities and organization according to ISO 9000 standards and client's requirements;
The factory Inspection confirms that your factory has the production capacity, technical know-how and quality to meet your production requirements.


Social Audit
Measuring a company's level of social responsibility according to SA 8000 standard.
Laboratory Testing:
Performed by internationally certified independent Chinese laboratories; Ensures your importing products are in conformity to international regulations. We guarantee that the samples tested were taken from your production by our inspector, and not from a selection chosen by the factory.
Sunchine inspection assumes full responsibility concerning the result of our lab tests.

Certificates Verification

For more information please visit our webpages:
www.webcommerceworldwide.com/China-inspections-quality-control-services.htm
www.webcommerceworldwide.com/China-supplier-Audit-Service.htm
www.sunchineinspections.com
www.linkedin.com/in/sunchineinspection
www.facebook.com/Sunchine.Inspection
www.facebook.com/SunchineInspeccionChina
www.facebook.com/ SunchineInspections
twitter.com/inspection_asia
twitter.com/inspeccionchina


Why to choose Sunchine Inspection?

- Professional in business consulting, quality management and inspection services,we can advise you regarding suppliers' selection, help you to make the factory audit and assessment and provide third party inspection services all along the production process.


- Chinese/French Management team with an extensive experience in International Trade Consulting and in Quality Management in France and in China.

- Extensive QC experience and strong detection capability to provide the buyer with the most reliable product quality guarantee. Our inspectors are trained to detect products containing non-standard or non-compliant components. Sunchine Inspection lets you know every detail of your production. Small errors can affect the finished product significantly. Sunchine Inspectors pay close attention to these small details that other inspection agencies may overlook.

- We respect the fact to be impartial, fair and honest. Inspection independent from the manufacturer. Sunchine Inspection guarantees independence, fairness and trustworthiness for whole inspection procedure. We are responsible for our clients only.

- To deliver optimum inspection results, Sunchine Inspection arranges the accredited inspector according to your product classification. All our inspectors are well-trained and experienced; all have a relevant expertise in the sector of products they inspect. So Sunchine Inspection can advise your supplier to implement the necessary corrective actions to improve the production quality.

- By comparison with many other inspection companies in China, Sunchine particularity is that all our inspectors are our full time employees and all are experienced and well-qualified and expert in the field of products they inspect and test. So we can ensure a stable and constant quality of our inspection services always highly professional.

- Keep confidential for all commercial secret.
Proven Product expertise on all products and imports from Asia
We provide lab testing, quality control and inspections service on all products and imports, including:
Bags and cases, Decorative and Building materials, Chemicals, Cycles and Motorcycle, Electric Bicycle, Electric Scooter, Digital Products, Consumers Electronics, Electrical Engineering, Electronic and Electrical Devices, Electronic and Electrical Products, Food Safety, Footwear, Garment, Garden Furniture, Garden Products, Gifts and Premiums, Indoor and Outdoor Furniture, Furnishing, Hardware and Tools, Home Appliance, Tableware, Kitchenware, Home Decorations, Home Textiles, Household items, Leather goods, Lightning Equipment, Machinery and Industrial Equipment, Medical Equipment, Medical Products, Pharmaceuticals, Renewable Energies, Solar Panel, Sanitary and Bathroom Equipment, Stationery, Sport and Recreational Products, Textiles, Toys and Plush, Vehicles, Spare Parts, Valves...


About us
Founded in 2005, Sunchine Inspection is today one of the best third-party inspection companies in China and Asia. We serve over 1,500 regular clients in various fields from all the Continents in the world.


We have our own inspection network present in more than 35 mains cities in China, which covers almost every important industrial region in China.


Our Inspection activities (factory audit, social audits and product quality inspections )are constantly expanding throughout China and many other Asian Countries (India, Pakistan, Bangladesh, Indonesia, Malaysia, Philippines, Vietnam, Thailand, Taiwan, South Korea and Sri-Lanka.

We have as policy to employ full-time and well-qualified inspectors only in China and in Asia; so we can deliver highly professional inspection services of constant quality.


Sunchine Inspection is part of Sunchine International that provides to companies from the five continents, all the tools and services they need to maximize the security of their purchases and production in China and to get the best Price-Quality ratio when importing from China.


Managed by a dynamic Chinese and French team, Sunchine International is very aware of European and American standards in matter of product quality which are a bit different from those implemented by Asian factories.


Well-established in the most active industrial regions of China for many years, we have offices in Nanjing and in Guangzhou and, also an executive office in France which covers all the European countries and also takes care of our American and African clients.


The other branch of Sunchine International is Sunchine Consulting founded in 2002 by François Shi, the actual Managing director of Sunchine International Co. Ltd.


Sunchine Consulting can provide the following services:
- Import-Export Consulting, Sourcing, Purchasing, Import Management, representative office management;
- Interpreting and Translating Services in 11 languages; Organisation and planning of business trip; Canton Fair and other fairs business assistances services.


Well-known and reputable sourcing and import-export consulting company in China and abroad. Sunchine Consulting has a rich experience in matter of international trade, import-export consulting and sourcing in China.


So Sunchine International is able to advise the client all along the purchasing process in China.


Independent from Chinese manufacturers and wholesalers, Sunchine aims to maintain the highest standards in quality control in China and focus in defending and protecting the interests of our clients in China.


Provide highly professional service, be attentive to your clients' needs, concerns and requirements, advise them at the best of their interests in China and Greater Asia is the duty of each member of Sunchine Inspection and Sunchine International.


By having offices in French and in China, Sunchine Inspection can reply you quickly
With teams carefully selected and well-trained, we have the required qualifications to help you to find solutions to improve your quality of production in China and oin Greater Asia and ensure the satisfaction of your customers
With an extensive background in international trade and quality control management in Europe and Asia, I can advise you on how to reduce the import risk at the maximum when buying from China or from other Asian countries.
I can speak English, French, Italian, Spanish and have good notions of German and Portuguese languages. Please feel free to contact me. I will be happy to help you to secure at the maximum your productions in China and in many other Asian Countries.
Sunchine Inspection
Your Trusted Quality Control Inspection Partner in China and Asia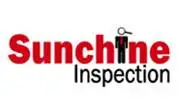 Nanjing Sunchine Quality Control Technology Service Co., Ltd.
10
YRS
CN
Business Service (Transportation, finance, travel, Ads, etc)